With annual open enrollment approaching, employers and employees alike are at heightened levels of stress over the potential for significant increases in benefit costs. End-of-year health plan renewals may see significant increases in the cost of coverage, potentially resulting in higher employer and employee contributions and/or higher point of purchase cost sharing (deductibles, copayments, etc.).
An analysis of more than 2,000 respondents who participated in Mercer's 2023 National Survey of Employer-Sponsored Health Plans reveals what is uneasily expected – a 5.4% increase in the total health benefit cost per employee in 2024.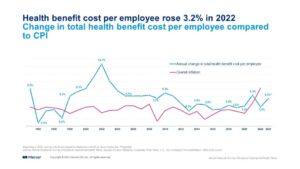 This projected 5.4% increase reflects anticipated changes in coverage to manage costs. However, respondents to Mercer's survey indicate that if large employers made no changes, the cost for their largest medical plan would rise by an average of 6.6%. Smaller employers with 50-499 employees that have fully insured plans report a higher average renewal rate of 7.5%.
According to Sunit Patel, Chief Actuary for Health and Benefits, Mercer, many large employers (500 or more employees) have been avoiding the cost-management tactic of shifting costs to employees, as evidenced by minimal growth in deductibles and cost-sharing requirements. "Plan sponsors have chosen to absorb cost increases in recent years rather than ask employees to pay more out of pocket for healthcare," says Patel. "This also contributes to faster health plan cost growth."
Who Will Ultimately Shoulder the Burden of Health Care Inflation
Most workers will appreciate efforts by their employer to avoid passing along the increased cost of coverage. However, that relief may be short lived – to the extent that businesses raise their prices for consumers.
For example, the August 2023 Consumer Price Index and Producer Price Index increases don't reflect the most recent increases in the cost of gasoline, diesel and other fuels. That is, the impact of energy prices on inflation go well beyond the price consumers see at the pump—higher costs for oil and natural gas ripple through the economy in countless but less obvious ways. Workers should expect to see a comparable bump in the cost of goods and services they buy in 2024 and in future years to the extent businesses can raise prices and pass along the increased cost of health coverage to consumers.
And, except where there are improvements in productivity, if a business cannot pass along the increased cost, most economists would assert that workers will ultimately bear the burden of inflation through reductions in wage increases or moderation in the cost of other benefits.    

American Workers Are Financially Fragile
The relatively small difference between the size of the projected increases before and after plan changes indicates that most employers are not increasing deductibles, copays and coinsurance/out-of-pocket expense maximums to keep pace with inflation – reflecting concerns about the tight job market and healthcare affordability. Continued inflation compounds the challenge a large segment of American workers face – those who are financially fragile and highly vulnerable to current economic conditions. Most live paycheck to paycheck, have little to no savings, and are generally unprepared for any medical costs.
Employers will be challenged to absorb higher cost increases, but with inflation putting stress on their employees' household finances, budget concerns must be balanced with healthcare affordability and the need to offer coverage. Expect renewed focus on strategies that will rein in cost growth without shifting more cost to employees.
Healthcare Consumer-Driven Strategy
Some employers will consider plan designs that change point-of-purchase cost sharing with a goal of capturing the improvement in cost management that only occurs when employees become better consumers.
Jack Towarnicky, ERISA counsel, aequum, recommends employers encourage a consumer-driven approach that empowers their employees with tools and resources so they can proactively make informed, cost-conscious decisions about their healthcare options.
"Healthcare consumerism brings an opportunity to engage and better understand the information incorporated in the explanation of benefits," says Towarnicky. "There also are strategies that take advantage of price transparency to capitalize on cost management initiatives and fully optimize value. This insight has potential to transform an employee's health coverage usage, putting the economic purchasing power and decision-making in their hands."
Price Transparency – Advanced Explanation of Benefits
Price transparency puts patients in the driver's seat to select providers and hospital services after considering fees and out-of-pocket costs.
Advance Transparency in Coverage (TiC) rules require employers to provide employees with easy access to an online shopping tool featuring 500 shoppable services and highlighting personalized out-of-pocket cost information for covered healthcare items and services. These pivotal transparency mandates spearheaded a massive shift in the role of the patient as a healthcare consumer.
A good health plan provides easy, direct access and understanding of pricing, benefits and out-of-pocket expense information so plan participants can make informed and cost-effective decisions. A great health plan would deploy a best practices "Advanced Explanation of Benefits" that prompts individuals to consider alternative providers of comparable quality and lower cost.
Reference-based Pricing (RBP) Plans
Even with greater transparency, significant price variations can still exist across hospitals and providers for standard procedures. Because of this, some health plans have adopted reference-based pricing (RBP) plan strategies. Designed to moderate excessive hospital costs, RBP establishes a benchmark fee schedule and payment ceiling instead of negotiated fees by contracting with a provider network.
Plan sponsors and participants benefit from the consistent application across all providers and health networks. A "pure" RBP structure, coupled with tech-driven data support, may avoid unreasonable or excessive provider charges – potentially lowering both the cost of coverage and employee point of purchase cost sharing.
Because only a minority of employer-sponsored plans have adopted RBP, those who would adopt RBP provisions in 2024 will gain a competitive financial advantage and improve worker engagement – as RBP provisions are likely to not only lower the cost of coverage (and reduce the need to adjust coverage for inflation) but, "done right," will often lower employee out of pocket expenses.
Health Savings Accounts
Leveraging HSAs as part of a "health and wealth" rewards strategy can optimize both savings and financial preparedness. HSAs offer a significantly different value proposition – not only do HSAs receive America's most valuable tax preference, but they also offer the greatest utility. Capable of quadruple duty, HSAs cover out-of-pocket medical costs in current and future years, Medicare premiums, retirement income and survivor benefits.
HSA monies, including any employer contributions, are always "vested," and never forfeited. HSA contributions receive more favorable tax treatment than contributions to a 401k. And, unlike a Health Flexible Spending Account (FSA), HSA monies are invested and accrue earnings tax-deferred. Participants receive HSA monies tax free when used to pay eligible health care expenses.
Value of a Medical Billing Partnership
To support annual enrollment and help manage plan design and administration, plan sponsors are benefiting from partnerships that provide them with insights through data-driven solutions. Real-time price information of the true cost of health care services enables sponsors and members to make the most advantageous cost-benefit decisions regarding enrollment options.
aequum is a first-of-its kind tech-driven company in the complex field of medical billing. "Our tech-driven team partners with health plans, providing administrative, technical and legal support to their members," says Christine Cooper, CEO of aequum. "Working together, we are advancing solutions to manage costs, reduce spending and gain potential savings."
As your partner, aequum can help lower costs, achieve savings, enhance member experience and maximize your plan's success in 2024 and beyond. Please contact us if you have any questions or need support.