Just as Americans were starting to express a sigh of relief following an assumed end to medical balance billing under the provisions of the No Surprises Act, many health plan participants are experiencing the difference between "surprise" and "unexpected."
According to a survey conducted by Morning Consult, many respondents claim to have received surprise medical bills since the No Surprises Act (NSA) took effect start of January 2022 after being signed into federal law. 20% said they or their family have received an unexpected  medical bill and 22% were charged over $1,000. The survey points to the complexity and weaknesses of the NSA – as the NSA raised expectations that it would eliminate the majority of balance billing. These reported statistics serve another example confirming that surprise ≠ unexpected in terms of medical billing practices that continue to fleece an already financially fragile workforce population.
The "surprises" that are subject to NSA protection
The NSA covers participants in employer-sponsored health plans and aims to provide protection from surprise medical bills for certain emergency services as well as services received from out-of-network providers at in-network facilities.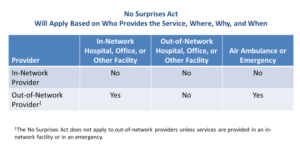 The "unexpected" that are "not surprises" under the NSA
Over time, medical providers will increase fees to maintain or increase their revenues – potentially triggering an increase in the participant's point of purchase cost sharing and/or an increase in all covered employee contributions in 2023 and future years. The NSA is likely to be inflationary:
Employers will comply, resulting in additions to cost – reflected in increases in employer-paid medical expenses, employer and employee contributions, and point of purchase cost sharing.
The increases are driven by NSA changes, including:
Paying out-of-network charges on an in-network basis,
Higher contracted rates to increase the breadth of the provider network,
Increased in-network employee cost sharing to moderate plan-paid expenses, and
Likely increase in the number of services provided to make up for lower unit rates.
Paying for an Increase in Facility Fees is "Unexpected"
As a provision of the NSA, hospitals are required to publicly post their rates to bring greater price transparency to healthcare consumers. However, rates for certain hospital charges are increasing. Rising facility fees are not being accounted for and protected against under the federal NSA legislation.
Three in four physicians are now employed directly by hospitals and health systems. When these organizations acquire physician practices and absorb their doctors, the physicians' professional rates typically go up. When allocated under facility fees, the total cost of care to the participant increases and is reflected in medical billing that is higher than estimated, hence, unexpected. Some states are taking legislative action, among them is Colorado. "Facility fees are simply another way that hospital CEOs are lining their pockets at the expense of patients," said Rep. Emily Sirota who sponsored the Colorado bill.
Strategic and Compliant Solutions
Health plan sponsors, administrators and their participants need to understand their rights under the NSA legislation and price transparency mandates designed to reveal the true cost of provider health services before initiating care and submitting a claim. The best response to the NSA is still an approach that is both strategic and compliance oriented.
Reference-Based Pricing (RBP) is one of the fastest growing solutions in health benefits cost management to avoid unreasonable or excessive provider charges – potentially lowering the cost of coverage and employee point of purchase cost sharing. RBP plans that do not contract with providers should remain unaffected by NSA because there neither out-of-network claims nor is there any determination of a median in-network rate. A "pure" RBP structure, coupled with tech-driven data support, may avoid unreasonable or excessive provider charges.
Direct Contracting is a payment model that shifts risk to a primary care group of physicians to provide a defined set of medical services in exchange for a monthly capitation fee. A growing number of primary care physicians are negotiating direct working relationships with self-funded employer-sponsored health plans. The model supplants the traditional fee-for-service reimbursement process with a value-based care arrangement.
According to Christine Cooper, CEO of aequum, "The NSA has altered the significance of direct contracts. For plans and administrators faced with the paramount issue of cost, the employer and provider might negotiate reimbursement rates to be paid to the provider that account for the historical or (in the case of primary/preventative care) desired utilization of services by the employer's covered population."
As your partner, aequum helps lower costs, achieve savings and support your plan member experience and success in 2023 and beyond. Please contact us if you have any questions or need support.