In May, AHIP and the Blue Cross Blue Shield Association (BCBSA) announced the results of a study and analysis regarding the impact of the No Surprises Act (NSA).
The survey defined a surprise medical bill as:
Treatments by non-network providers that fell under the expanded definition of emergency services (including post-stabilization care)
Non-emergency services by a non-network provider delivered at an in-network facility (hospital, hospital outpatient, ambulatory surgery)
Based on surveyed claims data from the first two months of 2022, the study concluded that the NSA prevented more than 2 million potential surprise medical bills among all commercially insured patients. Should the trend hold, more than 12 million surprise bills will be avoided in 2022 due to the NSA. No specific estimate, however, was provided with respect to plans that are self-insured, and the data is limited to claims that would not otherwise be subject to a state surprise billing law.
This study revealed that there were 600,000 NSA-eligible claims in the commercial insurance market in January and February 2022. That is .23% of all commercial claims. However, due to the substantial delay in claims processing, the study estimated that the actual number of NSA-eligible claims exceeded 2 million during the first two months of 2022.
If accurate, the majority of employer-sponsored health plans will be impacted because, according to the annual Kaiser survey, approximately 75% of participants in employer-sponsored health plans incorporate a PPO design – either a traditional PPO or HSA or HRA capable coverage.
What Does That Mean for Plan Sponsors?
More expense, perhaps a lot more expense.
It means that in 2022, more than 2 million claims will have expenses that would have been excluded as non-covered charges. It also means that the same number of claims will have expenses that will be adjudicated subject to in-network, not out-of-network cost sharing.
Based on past studies, this could have a significant impact on plan benefits because:
The average deductible applied to out-of-network expenses is 90% higher than the in-network deductible
The average out-of-pocket expense maximum for out-of-network services is 120% higher than the out-of-pocket expense maximum for in-network expenses
Most PPO designs do not cross-apply out-of-network such expenses to apply to both deductibles and both out-of-pocket expense maximums.
Participants will initially see a modest reduction in point of purchase cost sharing. However, as the cost of coverage increases, expect both employer and employee-paid contributions to increase.
Responding to Changes that Increase the Cost of Coverage
How have plan sponsors responded to increased coverage costs in the past? In general, point of purchase cost sharing has not kept pace with inflation. Participants have largely been insulated from health care inflation. (https://www.creditcadabra.com) Instead, plan sponsors have shared the increased cost of coverage with participants through higher employer and employee contributions.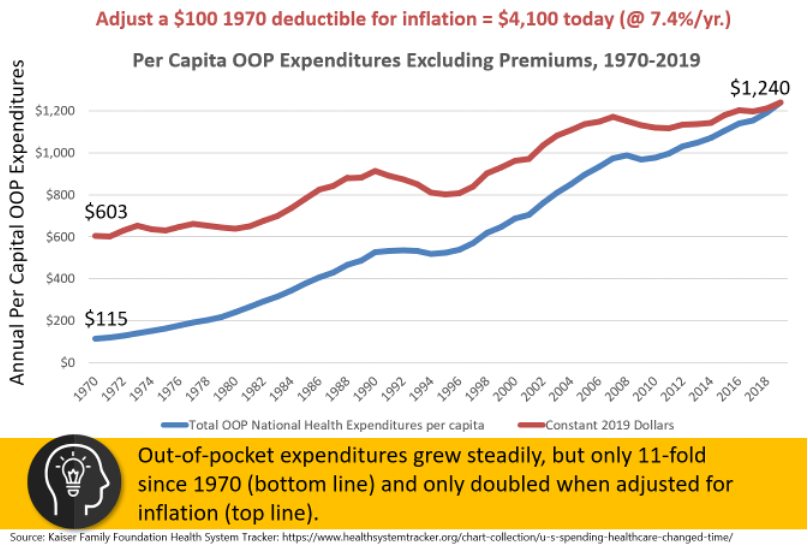 So, a compliance-only approach is likely to result in the following:
Reduced incentives for participant efforts in selecting quality, in-network providers
Erosion of the point of purchase cost sharing designed into your plan
Increases in employer and employee contributions
Reduced incentives for in-network providers to negotiate over price
Plan sponsors should take strategic action – changes that go far beyond simple compliance to ensure that their employer-sponsored, self-insured plans incorporate the most effective strategies available today for the "health and wealth" of their participants. A strategic response could include design changes that would return you plan to the intended levels of cost sharing – while also securing the benefits of the No Surprises Act for participants.
Adding a Health Savings Account capable coverage option, "done right"
Adopting a "pure" Reference Based Pricing (RBP) plan design so that reference pricing would apply to all covered expenses
You could wait five years and look back to see whether the cost sharing pattern of the past five decades continues – or worsens! Or you could respond strategically today.